2nd company run for the TRANSEARCH ChildFund Foundation
On Friday, 09/09/2016, 27 employees, family members and friends of TRANSEARCH International Germany and artec Personalberatung came together for the Stuttgart SportScheck post-run.
For the second time in a public setting, TRANSEARCH made an appearance whilst representing the TRANSEARCH ChildFund Foundation. Our numerous adult ambassadors ran 5 km, and for the first time, a child ambassador ran the 1.8 km children's race, all in the name of our cause. The warm, summer atmosphere, and the positive mood of the runners, made this event particularly rewarding for athletes, spectators, and our foundation representatives.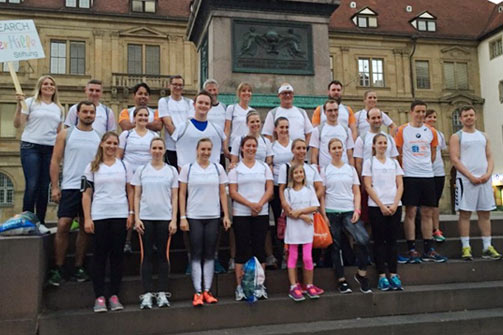 100% of the donations collected during this event, were funnelled into TRANSEARCH ChildFund Foundation projects. Donations benefitted all 1,200 pupils of the school centre in Zambia. In addition, the implementation of a pre-school, teachers' flats, and the computerisation of the school centre, were the last milestones in this long-lasting and successful project. This project has become a "Centre of Excellence" for the whole region.
With your continued help, and the support of the founder of our foundation, Ulrich F. Ackermann, Managing Partner of TRANSEARCH International Germany, operations to establish a health care centre are in full swing.